ETS Electro-tech systems inc
ETS Electro-tech systems inc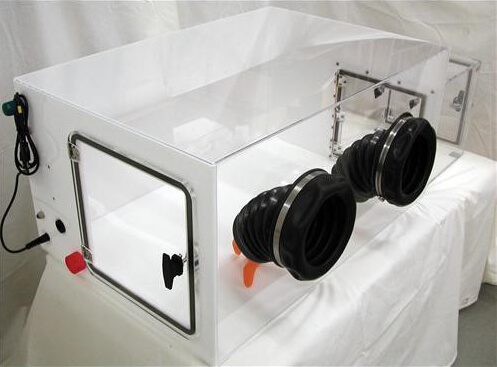 ETS glove boxes, chambers, and control systems provide the measurement and precise control of temperature and humidity in enclosed environments required for electrostatics, electronics, petrochemical, packaging, pharmaceutical, plastic, biomedical, university research, and similar applications.
Products:
Standard chambers, custom enclosures, as well as controllers and operating systems for use with existing enclosures .
Chambers are available in both 115 and 230 VAC with or without glove ports. All ETS products feature precision microprocessor-controlled humidity (<5% to >95% RH), temperature (-35°C to + 55°C), or both.
This level of precision enables users not only guarantee a safe working environment, but prevent the manufacturing defects and substandard research/test results that can result from uncontrolled environments.
Benefits:
Enabling handling and testing of hazardous materials within a controlled enclosure;
Retaining precise, controlled conditions when working with materials and compounds;
Reducing sealant and epoxy cure times, limiting downtime when manufacturing boards, assemblies, and structures;
Providing chambers that negate electrostatic discharge by using our ESD-certified acrylic custom option.
Benchtop Chambers
Standard Environments: ETS' multi-purpose benchtop units for laboratory and production use are large enough to accommodate testing and fabrication, as well as storage of materials, test equipment, and assemblies, yet they are small enough to fit on a standard workbench.
ETS offers four standard working space sizes:
5503 Series – 24"W x 18"D x 15"H (3.75 cu. ft., 106 l)
5506 Series – 36"W x 24"D x 18"H (9 cu. ft., 255 l)
5518/5532 Series – 39"W x 25"D x 21.5"H (9.4 cu. ft., 266 l); Exterior 54"W x 25.5"D x 22"H
5533 Series – 39"W x 31"D x 21.5"H (12.1 cu. ft., 343 l); Exterior 54"W x 31.5"D x 22"H
The systems are able to independently maintain humidity from <5% to >95% RH and temperature from -22ºF to 122ºF (-35 to 50ºC) when unit is placed in an ambient environment location.
Custom Glove Boxes And Environmental Chambers: ETS designs custom environments up to 125 ft3 (3540 liters) to meet customer requirements including storage, testing, weighing and fabrication. Custom models can include glove- and iris ports, single or multiple doors, and computer/bulkhead fittings. The chamber interior can be accessed through an antechamber, door, removable side panel or lift-off-from-base design. ETS can fabricate chambers using stainless steel or acrylic.
Electro-Tech Systems Chambers are available with CE certification.
Contact: AB-AD tech&eng ltd Arie Abraham Mobile: 052-2735412 This email address is being protected from spambots. You need JavaScript enabled to view it.
MORE PRODUCTS